Junior Inventors
What is Government funded kindergarten?
The government has recognised the importance of kindergarten and fund our program through:
teacher employment
educator training
resources
incursions and excursions
curriculum
There are two types of Kindergarten programs that the government funds. Long day care kindergarten and sessional kindergarten. Sessional programs have set hours to attend across the week equalling 15 hours. Our long day care kindergarten program is available over 5 days per week, with the care and education between 6.30am – 6.30pm. It is recommended by the government that each child has 15 hours access to the program per week. Our Kindergarten Teacher works a 7.6 hr day with at least 5 hours direct contact with the children with the remainder of the day designing, resourcing, researching and setting up the curriculum/program.
Walker learning approach
We pride ourselves on implementing the Walker philosophy of learning. The Walker approach grasps children's interests as learning experiences alongside the explicit teaching of skills and understandings in literacy, numeracy and the world around them. Basically children's interests are expanded, scaffold and supported as a means of ongoing engagement in particular learning areas. We focus on inquiry based learning topics that are extended by the children's questions and thought processes.
Some of the key goals for children's learning are to promote in them the ability to think laterally and creatively. To be able to self-initiate, to problem solve, to think deeply, to construct ideas and utilise their own understandings and discover new ones, to become interested in endless possibilities and opportunities and to become increasingly intrinsically motivated to learn.
We believe through implementing this approach, we achieve:
Higher levels of engagement and motivation.
Higher oral language skills
Increased writing
Increased prosocial skills
Improved problem solving and creative thinking
We achieve this through Investigations. The formal discovery, group time teaching, presentations of work and manipulation of equipment.
Bush kindergarten
We believe childhood is precious and that an important part of childhood is being outside in nature. We know in our hearts that children need more time outside in nature. This knowledge is supported by research.
Children are natural learners. Nature Kinder will provide your child with the time and an ideal environment for them to learn in: two hours of uninterrupted play in nature, using what is provided as learning materials. Bush Kinder will be a special part of your child's total kinder experience.
They will have opportunities to play in the rain, roll down grassy mounds, balance on fallen logs, get involved in dramatic play, find insects, draw with sticks in the ground and make mud pies. Each session we have a number or letter intention to make connections to, find and create with loose objects.
Each child's developmental progression, advancing skill levels and particular interests will be noted by their educators. This knowledge will be used to support the children's learning.
Teachers will support children as they take risks and face challenges essential to well-rounded learning.
Stories will be told, knowledge will be shared, songs will be sung. Through play your children will connect with and respect this space. They will connect with their land in a way that cannot be done under a roof or within walls.
School readiness preparation
We aim to best prepare your child for their first primary year. However there are many myths and facts in relation to school readiness and what the school requires. School readiness involves these fundamental concepts:
Physical health
Gross Motor Skills
Fine Motor Skills
Perceptual Abilities
Social Adaptation
Intellectual Ability
Concentration and Perseverance
Skills in Categorizing
Language Development
Pre literacy and numeracy
Emotional Readiness
Critical Thinking Skills 
Thirst for Knowledge
We recognise that children reach milestone learning's in their own time and we lay the foundations for this learning to occur. We focus on where they are at and how we can take them further. Our main focus is on social and emotional abilities to ensure a smooth transition but also confidence to learn in a new environment.
Meet the Kindergarten teacher from Boronia Leah

I believe each child is a unique individual and that all children are active learners. Our kindergarten programs provide an inclusive setting that recognise children's varied abilities, interests, needs and individual learning styles. Our play-based, child-centred program reflects the integration of physical, cognitive, social, emotional, language, self-help and aesthetic areas for the total development of the child. Meaningful play encourages relationships, curiosity, discovery and problem-solving which supports individual growth and development of a positive self-image. We acknowledge and value our indigenous heritage and that of the wider community, locally and nationally and internationally.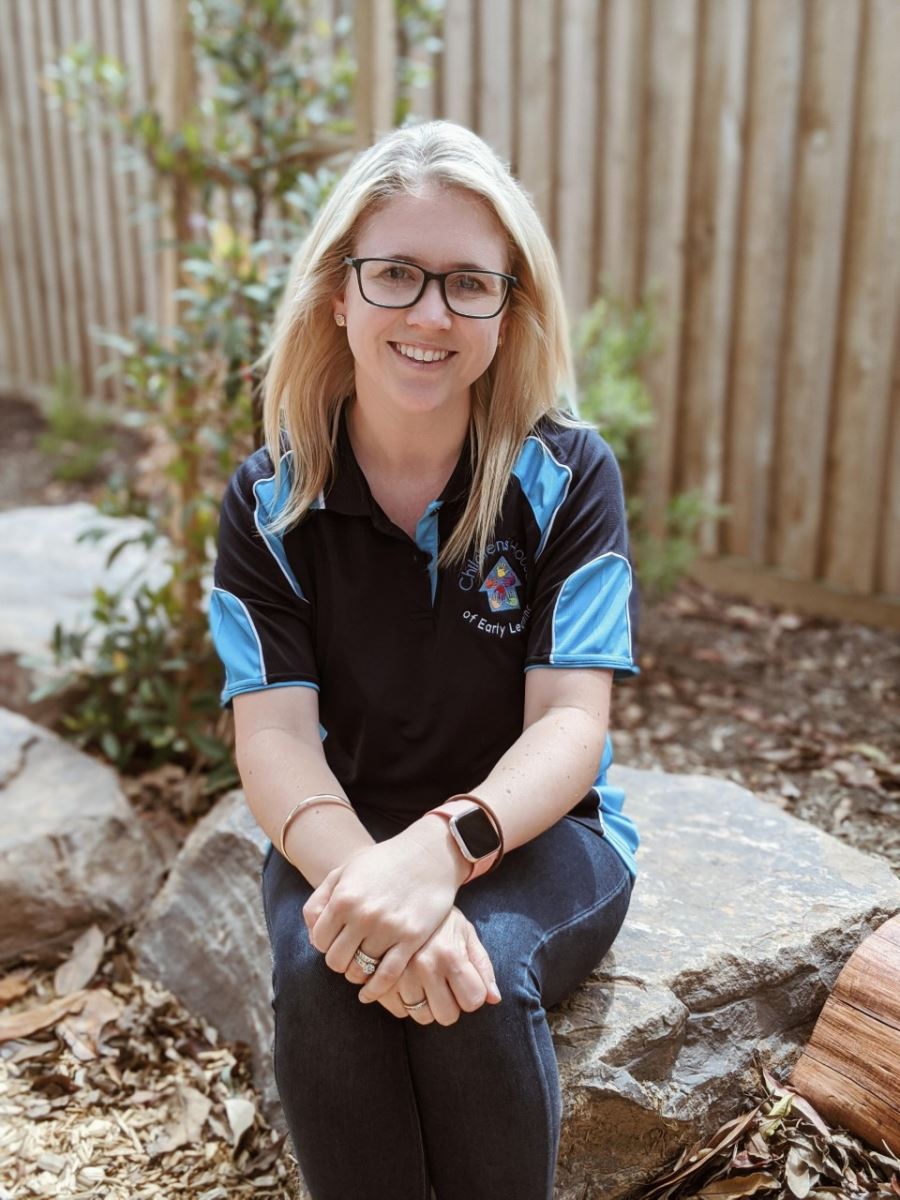 I believe that play is a child's work and that learning occurs during developmentally appropriate, child-centred experiences. Children learn concepts best when they are meaningful and relevant to them. We aim to provide an atmosphere that is welcoming, challenging and engaging for all children. Through observation, discussion, documentation and working strongly in partnership with children, families and our fellow educators, we offer a holistic approach to our programs that are dynamic, inclusive, child centred, flexible and high quality. Within our programs we place great importance on respect and care; both for others, our world and ourselves. I recognise the significance of the environment and natural world in our learning and livelihood and advocate for its protection and appreciation. I believe children should be supported in building connections and understanding their own self-worth in order to establish the foundations for a happy, productive life and a strong sense of identity. I aspire to provide a rich learning environment that encompasses experiences and opportunities for learning around language, literacy, numeracy, science, creative arts, musical and movement, social skills, independence and wellbeing. In supporting this learning we acknowledge the importance of play in the early years of childhood, and that children learn best when experiences are engaging, interactive and respectful of individual levels of ability and skill.
Our programming and practices are informed by what we learn from the wider community. We challenge ourselves, our perspectives and our methods by being continual learners and utilising our understandings to benefit the children, families and educators. We are guided by the National and Victorian Early Years Learning Frameworks, which brings together principals, practices and outcomes for all children aged birth to 5, and in their transition to school. The values underpinned in the EYLF are embedded within our practice at Children's House of Early Learning and you will see evidence of this in every aspect of our relationships with the children. Bringing these practice and beliefs together, we create meaningful and rich learning experiences, and high expectations for all children.
Meet the Kindergarten Teacher from Mt Evelyn Sandrine

I place great emphasis on the importance of assisting your kindergarten child with confidence, resilience, and social, motor and cognitive skills. 
I believe this can be achieved through:
Forming and building respectful relationships, with each child and their family 
Providing high quality of care for your child 
Providing a nurturing environment where you child feels safe 
Supportive play and educational experiences suitable for your child 
Providing an inclusive kindergarten program which will enhance your child's sense of becoming, being and belonging
I am committed to the Victorian Early Years Learning and Development Framework (VEYLDF) and my education and care practices are consistent with the Children's House of Early Learning philosophy.
I aim to provide the best of myself and my knowledge, with the assistance and feedback from both families, and valued co-educators, in caring for and educating your child.
At Children's Hous
e of Early Learning Mount Evelyn, we are privileged to have close ongoing partnerships with local schools, community groups and businesses: Through our regular excursions to the local primary school, library, post office, CFA, police station, age care service and supermarket, our children are developing a sense of belonging to their local community. We are very fortunate that our centre is positioned nearby the Warburton Trail, and can easily access the Mount Evelyn Township by foot. JI Children are handed a community passport at the start of the year where they record their community encounters and discoveries: Apart from being a lovely keepsake, our passports are an important tool for our kindergarten children to begin to understand the concept of citizenship.
At CHOEL Mount Evelyn, the kindergarten educators are sharing their expertise and embedding cross curriculum priorities close to their hearts: Children's mental health & emotional wellbeing are nurtured through holistic experiences including practicing gratitude and mindfulness, as well as teaching the following skills and competencies following the THINK EQUAL curriculum  (Lumgair, Paulson 2018)
Sustainability is also high on our priority list, and our passionate kindergarten co-educator regularly champions environmental awareness through gardening, recycling and animal care for our resident leaf insects and blue tongue lizards.